For a while now I've been curious about the historical accuracy, feasibility, and construction of leather drinking vessels (canteens, bottles, etc.)
, so I started the research trek and have you ever noticed that search engines are horrible at intuitive results? Since when does a search for 'leather drinking bottles' come up with nudity? At any rate, a little persistence finally bore fruit. Obviously, you need the right terms and the term I needed was 'flask'.
Dictionary.com gave me a great place to start (after a few bad starts)...
Origin:
1375–1425; late Middle English: cask, keg < Anglo-French, Old French flaske < Late Latin flasca, earlier flascō, of uncertain origin; compare Old English flasce, flaxe, Old High German flasca ( German flasche ); compare flagon
OHG, perfect, way before the time I'm researching. Flasche, German for flask, is the term that finally opened the search engines to what I wanted, though perhaps not exactly how I thought I wanted them. Flasche turns into the modern English equivalent of a bottle.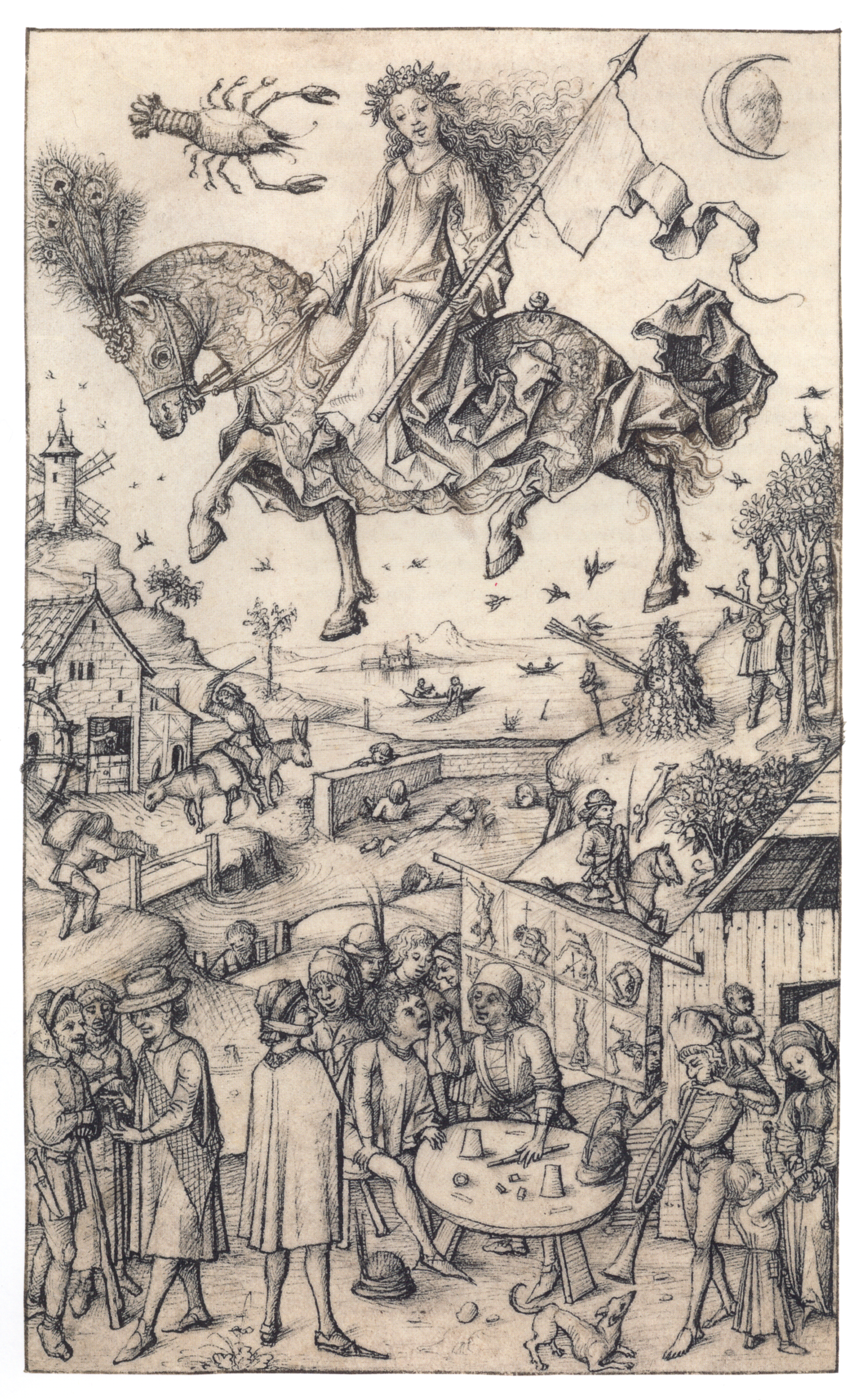 Children of the Planets: Luna (Moon) by Meister Hausbuch (c1475-85)
Not the easiest to see, that's why I've provided a detail, but that looks like a drinking flask hanging from the man's spear on the upper right side of the drawing.
There is also a square flasche in Hans Baldung Grien's
Apostelscheidung
(1521) and I know I've seen another, but I've lost it for the moment.
A side trip gave me another word to throw into all of this which is even older than flasche...
flehtanan
(
"
to plait, braid
"
)
, from the practice of plaiting or wrapping bottles in straw casing.
[EDIT: Thanks to a comment which included a larger resolution image, I have updated these images for better viewing.]